The barn is quietly situated, in a slightly elevated position, at the top of Henshaw village – giving outstanding and ever changing views of the West Tyne Valley.
In 2006 we inherited farm yard. Ground had been heavily compacted by cattle. From this distinctly unpromising terrain a garden has gradually emerged – incorporating salvaged stone to create different levels – and embracing natural materials to add texture and interest.
It is a traditional garden, with a modern twist (so we are told!) It is designed to encourage wild life, and languorously wraps itself around the house – with spaces deliberately created to provide protection from the prevailing winds.
Guests will find a formal parterre; a rockery with a rill culminating in a mini pond – a densely planted herbacous border – and  espaliered fruit trees leading into a laburnum walk.
Immediately beyond the garden is a semi- wild woodland area – and most importantly – John's allotment – which provides for our table an abundant variety of fresh herbs and salad leaves, vegetables, soft fruit, and country garden flowers.
Our guests are very welcome to explore and enjoy our sweetly scented space, with its varied seating and rich mix of planting – altogether delightful – both for relaxation or for drinks before dinner.
*In the creation of our garden we are privileged to have been involved with the NGS – and to have been featured in the ' Amateur Gardening' magazine.*
What our Guests Have Said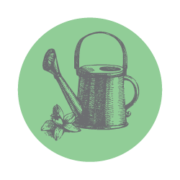 What an amazing B&B! A beautiful home to Pauline and John who are so welcoming from the moment you arrive. We had booked to stay three nights but had such a great time that we stayed an extra night. We were welcomed with a cup of tea, home made scones and cake when we arrived. That was our taste of the pleasures to come. John is an exceptional chef, we were very glad we had booked the evening meals throughout our stay. Our room was beautiful, with an attention to details that revealed Pauline's exquisite taste.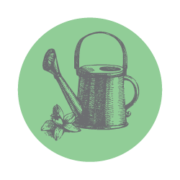 After a 7.5 hour journey from the midlands we were welcomed by Pauline and John with a glass of Rioja – it was always going to be a success from that moment! The place is beautiful and location ideal for attractions and walking the wall. Pauline and John have made this a five star stay with the best bathroom products,…